Pest Trap Rental
A cost effective way of tackling persistent or longer-term problems is to rent traps from Verminoff.
In some circumstances you may manage the situation yourself after an initial consultation and training.
Cage Trap Rental (live traps)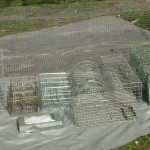 Various traps for numerous pests are available, see picture.
Fox, Rabbit, Rat, Squirrel, Glis Glis, Mink, Pigeon, cat.
All of the above must be checked daily. Some can only be used under strict directions. All will incur a service charge for removing captured animals, most of which must not be released.
Kill Trap Rental
Several kill traps are available for rental, but must only be placed to catch target species.
Non target species must be protected. The use of tunnels to exclude other animals and birds is paramount. Captured pests can be removed and the trap rebated and reset, this method does not incur a service charge…. if you are able to do it after an initial Verminoff consultation.
Most of these traps are difficult to handle and dangerous to the operator who is not familiar with them. Direction for the use of these traps will be available at a cost for time spent by Verminoff.
SPECIES.
Rat, mouse, squirrel, Rabbit, Mole.